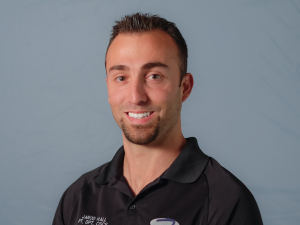 Jarod Hall, PT, DPT, OCS, CSCS is a doctor of physical therapy in Fort Worth, TX whose clinical focus is orthopedics with an emphasis on pain neuroscience education and purposeful implementation of principles of progressive exercise in the management of both chronic pain and athletic injuries.
Jarod has shown clinical excellence in securing designation as a board certified Orthopedic Clinical Specialist (OCS) as well as a Certified Strength and Conditioning Specialist (CSCS). He frequently guest lectures in physical therapist doctoral education programs on the management of orthopedic injuries, the current science of pain, strength and conditioning, and manual therapies.
In addition, Jarod regularly presents continuing education at the state, national, and international level for practicing physical therapists, occupational therapists, chiropractors, and medical doctors. Jarod has developed and leads both a physical therapist orthopedic board specialty examination preparatory course through OPTIM Manual Therapy and Fellowship as well a virtual mentorship with Modern Pain Care for practicing physical medicine clinicians seeking to further their clinical expertise.
Finally, Jarod is co-author of the text "Sticks and Stones: A Collection of Stories and Analogies to Better Understand Pain".