When back pain goes from confusing to scary…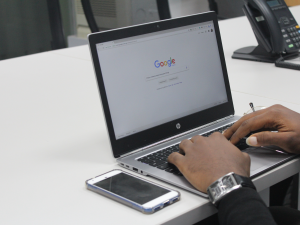 It's a fact of modern life that Dr. Google is the first place people go to check their symptoms and get health information. People with back pain often come across information relating to cancer when they search about what might be causing their pain.
Back pain (or pain in other areas) can do strange things like change locations, spread to the opposite side of the body, and refer symptoms into the lower limbs.
It's often tricky to make sense of such curious sensations. Constant back pain that moves around to different locations could feel like a spreading disease, which can be very worrying!
If you have spreading back pain, or severe back pain symptoms, or back pain that has persisted for a long time it's without doubt already having a negative effect on your life.
If you start to read about cancer, it's not hard to work yourself into a state of panic about your health. Unfortunately, such panic can actually contribute to making any pain feel much worse! It's easy to find information online about lung cancer, colon cancer, ovarian cancer and prostate cancer all causing back pain – but it's very uncommon in the clinic.
What you need to know about cancer and back pain
Back pain caused by cancer is rare, but it does happen and it must not be missed in your medical care.
Only 1% of people that seek help for back pain have any serious medical condition (and cancer is only a percentage of those causes) but the seriousness of the condition is something that cannot be ignored.
People with a previous cancer diagnosis should be more vigilant, as it is not unusual to experience back pain when the cancer returns. Thus, if you have a history of cancer, and you have developed back pain, you should get a medical check without delay. This is especially true when pain seems to be almost always present, is severe or is progressively getting worse and is not improved by periods of rest. You may also notice that it gets worse at night, interfering with your sleep.
Back pain from more benign causes will tend to be associated with specific movements or postures, or actions such as sneezing or coughing. It'll usually get better in 4-6 weeks.
It's important to recognize that even with a history of cancer, most of the time back pain will be just back pain, and not due to something more serious. However, if you have a history of cancer, it's better to play it safe and get it checked out, especially if the back pain has the characteristics mentioned above.
What do doctors look and listen for?
You've made an appointment with your family Doctor as a starting point.
They should ask you about your pain, what kinds of things make it worse or better, how long it's been affecting you, if you have had recent injections or surgery, and if you've been feeling generally unwell or have unusual symptoms.
They'll also be checking you for signs and symptoms such as:
Pain at night, and pain that's not better after resting
Your age greater than 50 years
Fatigue
Unexplained weight loss
Coughing up blood
Generalized swelling in arms or legs
Lumps you can feel
Discharge from nipples
Blood in your poo
Your Doctor will also have ways of examining your body, to see what extra information they can get to help understand more about your pain and if it's cause for concern. They might, for example, lightly tap to look for tender or painful spots. They might perform a variety of neurological tests that test for abnormal reflexes or decreased strength or sensation.
What tests will doctors order to rule out cancer?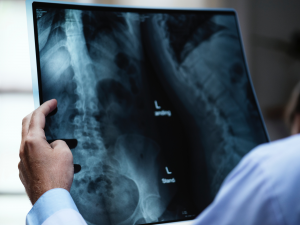 If your doctor is worried about the signs and symptoms that you have, they have tests that can start the process of ruling out a serious illness like cancer.
Keep in mind that "ruling out" something worrying is a very good thing, but doesn't necessarily diagnose what's causing pain.
A blood test can reveal if there is anything unusual happening in your body. Some results might be abnormal, but have nothing to do with cancer. Other abnormal results might indicate cancer, but need to be confirmed through further testing.
You might be understandably worried throughout the process, especially if you have a history of cancer, so make sure you ask your doctor to clarify any confusing results for you.
You're also likely to get your spine imaged. X-rays are good for looking at things like calcium-containing masses or tumors, or damage to bone that might be caused by cancerous growth weakening it. MRIs are better for seeing more detail in soft tissues than x-rays. They can reveal tumors in or around the spinal column or in the bone itself.
If you don't have abnormal blood markers, the imaging tests are negative and you are cleared by your doctor, your back pain is very likely not due to a serious underlying illness like cancer.
At this stage, you might say "that's great that I don't have cancer, but this pain still really sucks and makes me miserable, what now?" The best thing you can do is educate yourself about back pain and what you can do about it.
We have a library of resources to get you going! You might find answers to some of your questions among our FAQs. Staying active, and monitoring other aspects of your lifestyle, such as sleep or stress may also play important roles in your recovery.